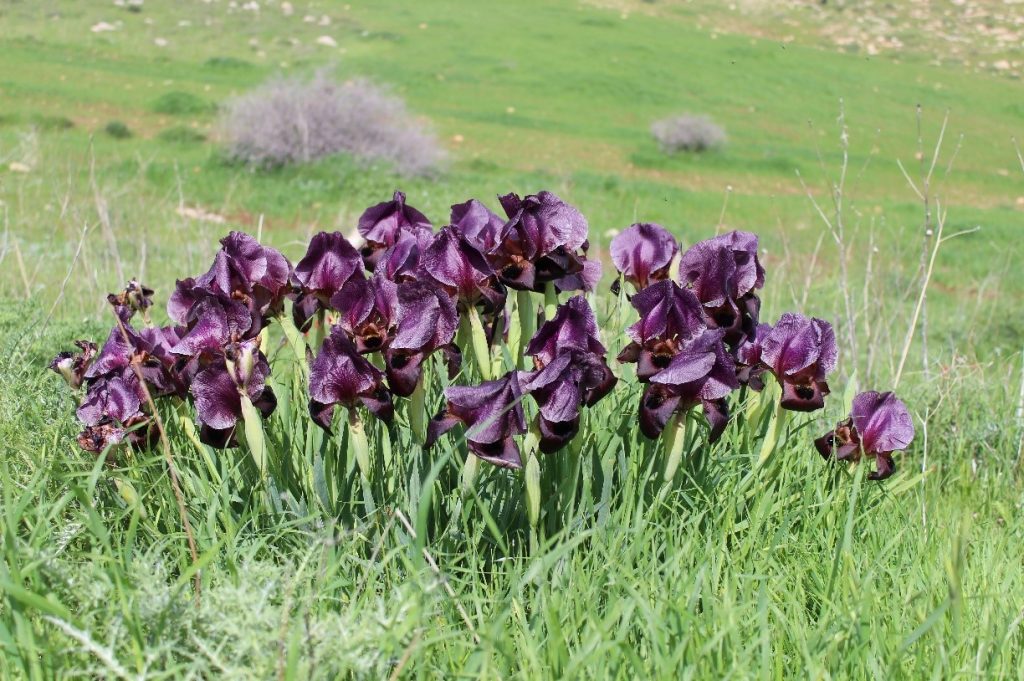 The project addressed the assessment, conservation, and protection of Iris atrofusca, a near-endemic plant species within "Jabal Tammoun" nature reserve. The reserve is located in the north-eastern part of the West Bank; extend between Tammoun and Atuf Villages within Tubas District. Activities executed during the project included; plant taxonomic survey, engagement of stakeholders and decision makers in conservation activities and planning (e.g., in-situ conservation), and capacity building for local communities to contribute conservation and protection activities and data collection, prioritizing the efforts on near endemic and threatened plant species. The project is funded by the Critical Ecosystem Partnership Fund and BirdLife International.
The project's main objectives included:
Assessing the distribution of Iris Atrofusca at Jabal Tammoun nature reserve and at specific site within the North-Eastern Slopes Region KBA.
Creating an in-situ conservation site at 3.5 dunums.
Increasing public awareness.
Supporting and engaging local communities, stakeholders, and decision makers in the project activities and to practice and apply sustainable uses of land and resources
Capacity building for local communities.
The project's main achievements:
Within the surveyed areas, Iris atrofusca was located in 1842.7 dunum with a 1442 total number of counted clones. In addition, the team of NPS located several clones of Iris atrofusca with unique and rare colours, including yellow and white.
In-situ conservation site was established at a governmental land within Jabal Tammoun nature reserve. It is located in the east-southern part of the nature reserve on a total area of about 14 dunums. The fencing of the site was supported financially and implementation by the WW-GVC, as part of an ongoing project with the Ministry of Agriculture. More than 120 Iris atrofusca clones, collected carefully from different locations within the KBA, were planted in the site. The transferred clones to the in-situ conservation site were under anthropogenic threat of extinction as these clones were located either near roadsides, agricultural lands, or within areas of high human activities.
Three schools gardens were established at Tammoun Girls Secondary School, Golan Primary School for Girls, and Atuf Primary School to increase public awareness among young generations, engaging the local communities in the project activities, and to support the sustainability of the project goals of conserving Iris atrofusca.
NPS team identified and developed two hiking trails at Jabal Tammoun Nature reserve where both intersects at a specific point, and continue to the botanical garden in a steep path.